Save Time and Buy a New Car Online with the Team at Sharp Honda in Topeka
You don't always have time to go through the car-buying experience especially with an on the go lifestyle that doesn't leave much time outside of your busy schedule. When you're practicing the social distancing, it can be a challenge just to have a look at a new vehicle but here at Sharp Honda, we have a solution for you! You can purchase a new car online, finance the purchase, and even test drive your new vehicle, all while staying safe and sound at home. We'll happily walk you through the steps in the process online, and we even deliver your new vehicle right to you! Check out the process down below and add some convenience to your shopping process!
You can start the process by looking through our online inventory to find the perfect Honda vehicle for your lifestyle. We carry many new Honda models like the Honda Civic, Honda Accord, Honda CR-V, and the Honda Ridgeline, so you'll be able to find something that suits you perfectly. You can also browse through our used inventory to find that option that is both dependable and affordable, ensuring you can get something you can rely on. Once you've narrowed down the selection to your ideal car, continue through the digital retailing process!
New Inventory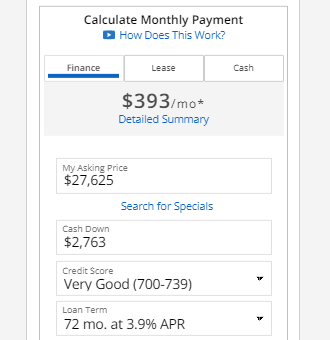 Value Your Trade-In
When you're looking to move on from your current vehicle, you can use the online trade-in assessor to determine what it is worth and use it towards your new purchase. All you need to do is plug in the relevant information on your vehicle into the tool, including its background and condition, and the tool will then calculate the value out based on current marketplace trends for that specific model. As we stated above, you can then use this towards your new purchase as part of your down payment.
Value Your Trade
Personalize Your Payments
When you're looking to customize your payments, this tool allows you to choose which one is right for you. Whether you choose between a loan or a lease, you'll be able to explore all of the options including what your term lengths will look like and what kind of interest rates you would prefer for your payment plans. The tool will help you determine the perfect payment plan, ensuring that you specify it to meet your budgeting needs. We're happy to help you over the phone, as well!
Choose Terms
Schedule a Test Drive
If you're looking to learn more about your new Honda, we can set up a date and time that works best for you. We'll get you behind the wheel, allowing you to enjoy exactly what the vehicle has to offer firsthand. Get to know the features of your preferred model and discover if it is the right one for you!
Test Drive
Vehicle Protection
If you're looking for a way to add some peace of mind to your new vehicle, we offer a variety of protection plans that add extended warranties and coverage to the brand new model. You'll be able to drive with confidence using these plans.
Vehicle Protection
Apply for Financing
When you're ready to get pre-approved for your financing, the next step allows you to apply online for your loan or lease. This step can often take time at the dealership but you can do so comfortably from home and on your time. Ensure you get exactly the payment plan that is perfect for your lifestyle.
Apply For Financing
Reserve Now
Once you've gone through the process, you can wrap everything up by reserving your ideal Honda Vehicle and ensuring that it's ready for you to drive away in. We happily deliver your new vehicle right to your driveway, so you don't have to leave the safety of your home. Tailor the experience to match your needs and navigate through the digital retailing tools from Sharp Honda.
Submit Your Offer
Hours
Monday

9:00AM- 6:00PM

Tuesday

9:00AM - 6:00PM

Wednesday

9:00AM - 6:00PM

Thursday

9:00AM - 6:00PM

Friday

9:00AM - 6:00PM

Saturday

9:00AM - 5:00PM

Sunday

Closed
See All Department Hours
Dealership Hours
Monday

9:00AM- 6:00PM

Tuesday

9:00AM - 6:00PM

Wednesday

9:00AM - 6:00PM

Thursday

9:00AM - 6:00PM

Friday

9:00AM - 6:00PM

Saturday

9:00AM - 5:00PM

Sunday

Closed
Parts Dept. Hours
Monday

7:00AM - 5:30PM

Tuesday

7:00AM - 5:30PM

Wednesday

7:00AM - 5:30PM

Thursday

7:00AM - 5:30PM

Friday

7:00AM - 5:30PM

Saturday

8:00AM- 2:00PM

Sunday

Closed
Service Dept. Hours
Monday

7:00AM - 5:30PM

Tuesday

7:00AM - 5:30PM

Wednesday

7:00AM - 5:30PM

Thursday

7:00AM - 5:30PM

Friday

7:00AM - 5:30PM

Saturday

8:00AM - 2;00PM

Sunday

Closed